The industrial environment is always changing. Businesses need to keep improving their systems and processes in order to keep up with the fierce competition in the markets.
Businesses need the expertise of a Software Development Company in Dubai to be able to quickly change direction and react to what customers want and need, so they can keep up with changing trends. Through custom software creation, these companies can set themselves apart from competitors by giving users a unique experience.
In this blog post, we'll tell you more about custom software development, including the different steps and benefits of the process.
What is custom software development?
Custom software development is the process of making customized software to meet the needs of a business. The method and the program's features are tailored to the needs of the client. It helps lower running costs, gives you an edge over your competitors, and makes you more visible.
Several leaders in their fields use custom tools to improve how they do things and make them more productive. They work with a software creation company to make custom software that saves money, helps their business grow, and is easy to use.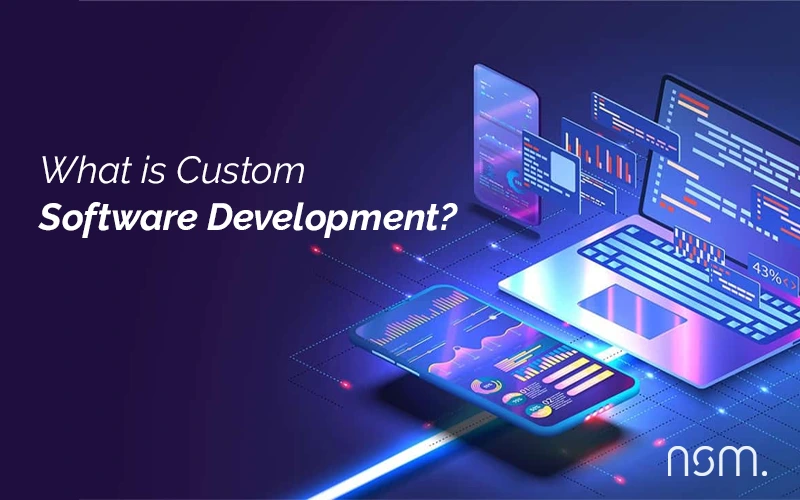 Custom software development has many steps, and the most important part of each step is to understand what the customer wants. Each step is just as important to the success of your product as the next. The idea is what will bring customers to you, the design is what will make them love your product, and the development is what will make their wants come true.
Where Does It Fit In?
Custom software development is the process of designing, building, deploying, and maintaining software for unique users, functions, or organizations. Most companies have their own development teams that make software just for them. You can also hire someone else to make software.
Custom software creation includes updating, managing, and changing programs to meet the needs of customers and the needs of the market.
To improve their company's performance, business owners have to make important choices about things like budgeting, development, outsourcing, returns on investment, and having a competitive edge.
Custom software development gives its users a big advantage over their competitors by giving them personalized solutions and engaging ways to do things. Several businesses use custom software development to do things like handle their inventory, keep track of their customers, and keep track of their content.
Checklist for figuring out if you need custom software
Ask yourself the following questions to figure out if your business needs custom software. If you answered "yes" to any of these questions, your business needs to have custom software made.
Does the company need to change the way it does things?
Do you use more than one piece of software to do the same thing?
Do you need tools to link your system to others?
Do you have a set of routines that work well together to run your business?
What are some of the benefits the software might have for your business if you buy it? What do they mean?
Is your current software giving your customers, employees, or suppliers trouble?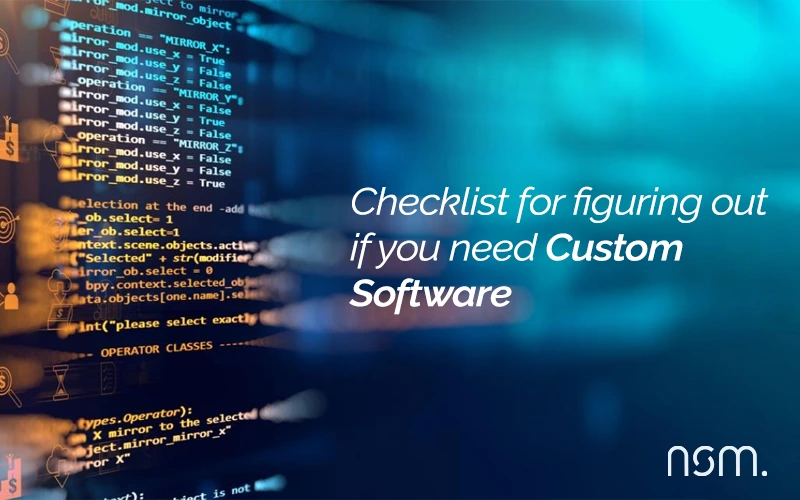 Advantages of Custom Software Development
1. Integration is made easier
Most companies use a mix of customized solutions at different levels. Custom software development using different technologies, methods, and architectures leads to the creation of software that fits your needs. These settings might not work with the tools and resources you have now.
Because of this, you might face constant problems and find it hard to integrate and work with other systems, which could hurt your productivity and efficiency. Custom software development is a good way to help processes that are handled by different systems.
By combining them with systems that are already in use, customized solutions can help expand the capabilities of tools that are already in use.
2. Very good value for money
Custom software development may seem expensive at first, but in the long run, it saves money. Additionally, Custom software development can be a good investment, as it boosts the speed and production of operations at a lower cost.
You can start working on big projects and add advanced features based on how much money you have. At each step of the process, you can test the product, get feedback, and make any changes that are needed.
3. Unbelievable Safe and Safe
Cybercriminals often go after software developers to hurt the reputation of your business. They buy commercial software, but never software that was made just for companies. Because they are built from the ground up, it is hard to get into these personalized solutions.
Also, people who make custom apps use encryption to add another layer of security. They make sure your info is always safe and give you the most functionality possible.
4. Helping out and taking care of things
With custom software, you can quickly get in touch with a support team that can help you with any technical or maintenance problems. With the right maintenance and assistance, you can fix technical problems as quickly as possible.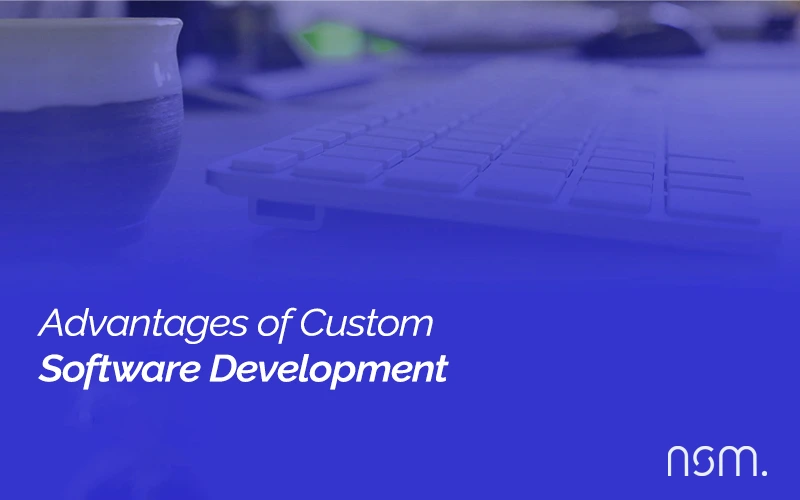 5. Scalability
As a company grows, its business processes become more complicated, which means it needs more advanced tools. The ready-made software solution can quickly become a problem if it doesn't work for your company or if it costs too much to license.
On the other hand, custom software development lets you scale your software to match the long-term growth of your business. This lets businesses grow fast without being held back by software that is too old.
Customized software is flexible and stable, so it can take advantage of new features and make processes better while still allowing for growth.
6. Personalization
Through custom software development, companies can make their software fit their needs. Personalization makes it easier to work software into the way your business works. To show how unique your brand is, you can come up with and build a system that fits with your business plan.
7. Better dependability
When you buy ready-made software, you depend on the company that made it. So, you have no say over pricing, terms, conditions, or the growth and future of your business.
If that company stops making updates to the product or goes out of business, it may be hard to find a new software source. Using custom software, on the other hand, makes it impossible to stop upgrading.
Your custom program can be used for as long as you need it. Even though there are care fees to think about, you will have a lot less to worry about.
Also Read: Top 10 Blockchain App & Software Development Firms in Dubai, UAE
Stages of Custom Software Development
The number of steps in the process of making custom software depends on the situation and the business. But there are some general steps that are used in many different businesses and organizations. Here is a complete guide to making custom software, with the most important steps highlighted.
1. Planning
Any project or business effort needs careful planning. If you don't plan well enough when making software, your job might not get finished. The plan helps people make good use of their time and resources, which are often restricted.
During the planning phase, the project manager lays out what needs to be done to build the product, makes a timeline for deliverables, and figures the costs of the process. This means getting information from a variety of places, such as gathering requirements from business stakeholders, weighing the pros and cons of different options, and so on.
As custom software development solutions get more and more attention, the planning process is changed to better fit this method.
2. Analysis
It's a very important step in the process of making software. This is where the software goes from being an idea to being an answer. During the analysis process, all of the project's needs are gathered and put into specs.
These steps of examining are important and should be done with extra care and to perfection. The planning method is very important to the success of this step.
During this step, the company's managers and higher-ups decide what features the software should have and make a plan for the final version. User stories are the names for the smaller features that can be added to each component.
3. Software Development
The software development design is a plan that helps with designing, planning, and making software for computers at different stages. The end result of the idea is a model for developers to use.
Design is a very important step in making software. It has a list of features and a set of standards, needs, and specifications that developers must follow. Whether a software project works or not depends on how well it is planned. It helps figure out if a product is a success or a failure with users.
4. Putting software into place
In the process of putting software into use, an object is made. There are different steps in the development life cycle, and each one works on a different part.
The most common way to make software is to use the "waterfall model," which divides the whole job into separate steps. It's a sequential design method, which means that work goes through its many steps in a certain order.
You don't go back to an earlier step unless you have to. During the planning phase, the number of jobs or tasks that need to be done is set and an estimate is made.
5. Procedure for testing
Software testing is the process of running a program or tool to look for bugs. Software quality assurance (SQA) can include software testing. The method involves running all test cases, which can be found in a test plan or test case definition, for example.
The goal of software testing is to find bugs in the program and fix them. Bugs are also known as "defects" or "errors." When used in certain situations, these mistakes or flaws may cause problems, but not in others.
At every stage of making software, testing is done. Unit testing is done by developers on small pieces of code. Functional testing is done by quality assurance people on combined packages. Sometimes, acceptance testing and system testing are done by users.
6. Taking care of software
Software upkeep is the process of taking care of a software product after the customer has received it. The major goal of maintenance is to support the product throughout its lifecycle and improve customer satisfaction.
Maintenance tasks need to be done when business needs change or when technology changes. The ad-hoc method is mostly used for software maintenance. People who use a software product can report problems (bugs) directly to the software developer, who will then fix the mistake and send it back to the user.
The main benefit of this method is that users can get updates to software as soon as they come out. This is a chance for the users to have their voices heard and have a say in how new features are made.
The biggest problem with this system is that it takes developers more time and can't be used in some scenarios, like when complex changes need to be made.
Also Read: Top 7 Ways to Get Free Site Backlinks
Who to Get In Touch for Your Custom Software Development?
One of the most important parts of custom software development is finding a trustworthy company to do it. This means doing more than just reading reviews and looking at samples.
Putting in some work to find a good custom software development business for your project will pay off. Since you'll be working together closely, you'll need a company that makes you feel comfortable and gives you trust.
Quality is one of the most important things to think about when picking a company. Even though good writers cost more, they may end up being the most cost-effective choice because you won't have to pay someone to fix their code as often in the future.
Also, higher-quality code is often easier to update and manage for future developers, which keeps the cost of updates as low as possible because you don't have to start from scratch.